You probably saw a few of the posts from last weeks trip to Fearann Eilean Iarmain on the Isle of Skye – so now I'm back, I thought I'd share a bit more information about the experience…
I've known Scott Mackenzie for a few years now and when the opportunity for a couple of days on the hill on the hinds arose, it was a quick decision and booked!
Tim Pritchard (of Shooting Foxes fame) was making the trip too – and for him it was a first time in the Highlands so he wasn't sure quite what to expect!
After a slightly late start, following an alarm malfunction (sorry Tim!) we left Northampton at around 4.30am – and 11 hours later pulled up outside the Eilean Iarmain Hotel to be met by Scott – and headed immediately to the bar for a catch up (and well deserved!) pint. From the moment we arrived, the staff at the hotel were fantastic – nothing was too much trouble – and the local ales were pretty special too! Having caught up a bit we checked in to the hotel – and again, nothing was too much trouble for the staff. At 6.30 we were treated to the bonfire and fireworks laid on by the hotel – an unexpected treat!
What can I say… The hotel is superb – incredibly friendly and helpful staff, clean and comfortable rooms and very welcoming. 10/10 from the moment we arrived to the moment we left.
Tim and I headed back to the bar and sampled some of the chef's delicious food – and after a couple more drams, headed off to get some kip in prep for the following day on the hill.
Tuesday morning, fuelled with a very tasty breakfast at the hotel Scott collected and after collecting the argo and ghillie Stewart, we headed to the hills. Spotting a group of hinds out to our left, we decamped and set of across ground to get to a suitable point where a shot could be taken. Swirling winds – and a mob of sheep on the hill added to the challenge of the terrain – but after and hour or we were in position and Scott identified the animals he'd like us to take. Then the waiting game started…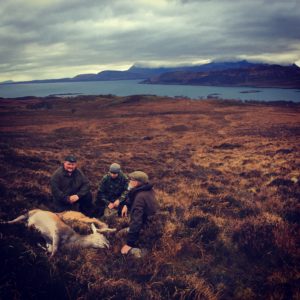 The weather was uncharacteristically mild – and the hinds seemed happy to just sit – watching out over the hill towards us and so we waited… and waited… After the best part of 90 minutes, the selected hind stood and presented herself and I took her. Tim followed with a text book shot to the calf.
One of the amazing little touches at the hotel was a miniature bottle of their own Te Bheag (I'm told that's gaelic for Wee Dram). Tim and I had had the foresight to make sure we'd brought them with us so we tucked in!
We then walked in to the beasts, carried out the greallach and then called Stewart in with the Argo to bring the beasts down off the hill. By this time, light was fading so we headed back to the larder, prepped and weighed the two taken then back to the hotel for dram and some food.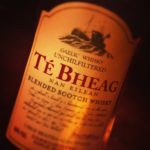 Now… I've never been a big fan of whisky but when in Rome… Some excellent advice and tutoring from Scott – and Stubbs the barman had me sampling some of Scotland's finest and by around 10pm following a few (ok, quite a few) drams and a double portion of Cullen Skink, we were replete and very "relaxed" so called it a night and headed back to our rooms.
Wednesday morning – again with a superb breakfast on board, we headed back out on the hill.
Spotting a group of three in open ground we made our way out to suitable vantage point – but the group couched up and there was no way into them. Realising that another long wait was ahead, Scott suggested we move on.
Due to the wind having changed, Scott led us to a part of the estate that I'd not seen before – the Coille Mhor. After a long climb in the argo, we set off on foot to look out over a glen that can only be described as stunning.

Spotting a group of deer way out in the distance, Scott led Tim and I across all kinds of terrain and after about an hour, got us to within 100 yards of this group. Getting into position, a small scuff of a sleeve in the heather alerted one of the group and they stood – and moved back to a greater distance up the hill but thankfully stopped and presented themselves for a shot. Two more beasts taken and we called Stewart in with the Argo.
In true Scott Mackenzie style, he then pulled out the Te Bhaig from his room and we enjoyed a wee dram over lunch (which I must thank Scott's wife for preparing!).
The plan then was to head over the high ground and work our way back to the vehicles as the wind favoured that route but glassing down towards the loch, we spotted a hind a calf, feeding back up towards tree line. We decided we would investigate further and headed downhill, across all kinds of terrain to get to downwind of them. On reaching the point where we'd hope to find them, they were nowhere to be seen – but Scott anticipated where they were likely to have gone – and so we set of, low to the ground across some very wet ground. As Scott and I made cover we spotted a pair on the tree line – and Scott signaled for Tim to get low to the ground… Unfortunately for Tim, this meant kneeling in about 10" of water for about 10 minutes – so thoroughly tested his kit!
A couple of quick low crawls across some open ground put me in a perfect position to take a yeld hind at about 150 yards – followed by Tim taking a similar beast at a similar range. The perfect end to a perfect couple of days…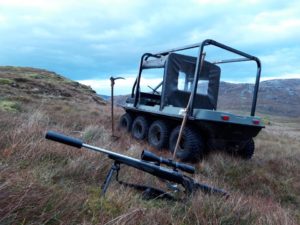 Leaving Scott to recce with Stewart and Tim to drag the two beasts to a point where Stewart could get to us in the argo, I set off back across country to collect the slips, sticks and various other bits we'd left along the stalk. Can't be that hard I thought as I set off – but then it dawned on me that this glen was a lot bigger than I thought! With no phone signal – and not much idea of where to look it was a challenge – but thankfully all was found!
After a hike back to the landy and having prepped and weighed the four beasts at the larder, we headed back to the comfort of the hotel. Relaxing after a fantastic couple of days on the hill, we settled in the bar and once again sample the delights of the chef's kitchen – and the top shelf of the bar… Last orders came and went and we called it a night!
I've said it already but I can't tell you enough how good this hotel is… Clean, warm, a brilliant team of friendly staff and great food – what more could we ask for…? A distillery on site for starters!
Having stocked up on a cheeky bottle of Poit Dhuib (that's potch goo to us!) and a bottle of the estates own Gin for the Best Fox Call Fairy, we headed out to the larder to collect a couple of beasts for the table. With that, we said our goodbyes and started the 13 hour drive home.
Wrapping up, I'd like to say a massive thanks to Scott, Stewart and Tim – and all of the guys at the Eilean Iarmain Hotel – you made it a trip to remember!
It's always said that taking the shot is only a small part of what we do – and in this case that is so true. The stunning scenery, the incredible staff, the food, the drink, the stalking, the sunrises, the list goes on. As a package, you will not beat a few days at Fearann Eilean Iarmain.
Sadly for you all, the first week in November 2019 is not available, as I've already re-booked.
Looking forward to it already!
Links:
Eilean Iarmain Hotel
Scott Mackenzie Skye Gamekeeper on Facebook