Looking to put your stalking and shooting skills to the test..?
Have you ever wanted to experience the thrill of a stalk?

Having recently spent a week on the hinds at Fearann Eilean Iarmain, we had the opportunity to try out Scott Mackenzie's Simulated Stalking day.




Scott has recently introduced a day where you can spend time stalking in to a variety of full sized, realistic steel targets. Shooting from various ranges, angles and shooting positions, you'll get a real feel for all aspects of highland stalking. 

Don't think for one minute this will be "a walk in the park". First off there's the Skye landscape to contend with. Then there's the wind (and quite possibly the rain). Throw into the pot the challenging shooting positions, inclines, ranges and the need to choose the most suitable "beast" and you'll soon be immersed in a full highland stalking experience.

Your day will start with a brisk walk to the range to check zero. For novices, this is an opportunity to learn about rifle safety and to become familiar with the tools of trade. 

Once comfortable at the range, then the stalk begins.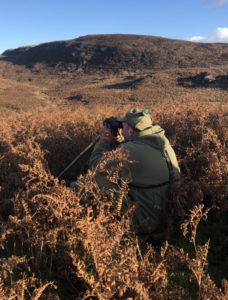 Heading out on to the hill, Scott will lead you in to the first of six targets in exactly the same way he would on a "live" stalk. There will be walking, climbing and plenty of crawling to get to the desired shooting position. The anticipation of quietly cresting a brow to get on to the first beast is a truly exciting and 
realistic experience.

Over the course of the day you'll complete a total of six stalks. Each presents a different scenario and its own challenges and you'll come away with a broader understanding of deer management and highland 
hill stalking.
Whether you're an experienced rifle shot, or a novice, the simulated stalk is a valuable and realistic introduction to a day on the hill.

Simulated Stalking is open to anyone over the age of 17 (under 17's must be Firearm Certificate Holders). FAC holders are welcome to bring their own rifles or estate rifles are available.



A single day of six stalks with six targets costs £140 per person (£165 per day if shared between two people).


For more information or to book your 
Simulated Stalking at Fearann Eilean Iarmain, 
contact Scott Mackenzie Head Gamekeeper via email scott@eileaniarmain.co.uk 
or call 01471 833266