Description
The Safety Gun Strap Tracking Hunter V2 is the TOP level version of this excellent new product from Harpsöe Sweden
The most popular version of the Safety Gun Strap, The TRACKING HUNTER has non slip RUBBERISED webbing throughout – meaning no matter how challenging the ground – or how heavy your rifle, it's going to be held secure on your back!
Basic, Hybrid or Tracking Hunter..?
You've probably noticed that there's three versions of the SGS available – so what's the difference? It's mostly down to the webbing material used in the strap – but the following info should explain it better.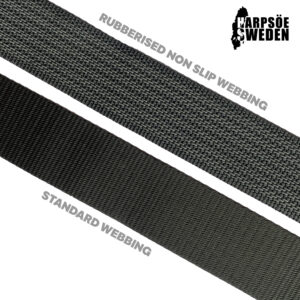 | VERSION | Webbing Material | Colours | Sizes |
| --- | --- | --- | --- |
| BASIC | SMOOTH | BLACK | XS-S | S – XXL | XXXL |
| HYBRID | SMOOTH (Rubberised on Sling Attachment) | Black, Green, Orange, Pink | XS-S | S – XXL | XXXL |
| TRACKING HUNTER | Rubberised Non Slip on all Webbing | Black | XS-S | S – XXL | XXXL |
Check out these links for the HYBRID and TRACKING HUNTER versions

The Safety Gun Strap is a very well made, simple solution that keeps your rifle exactly where you want it – on your shoulder. No more tie-ing up one hand trying to keep your rifle steady!
What's more, you can use the Safety Gun Strap with virtually any third party sling so if you have a favourite sling – no problem – and it's really simple to swap between rifles.
It's also really easy to adjust meaning you can use the strap regardless of where you're hunting and how many layers of clothing you're wearing…
How it works…
The Safety Gun Strap consists of two parts:
Part 1: Short strap with Velcro and the male section of the quick release buckle. This part is attached to your rifle sling.
Part 2: Long strap with paracord loop, adjustment buckle and the female section of the quick release buckle. Using the paracord loop, this part is attached to the pistol grip of your rifle.
Once assembled, the Safety Gun Strap will hold your rifle securely on your back, distributing the weight more evenly and preventing it slipping or falling forwards due to the weight of a varmint barrel / moderator. You'll be amazed at how much more comfortable this simple product makes carrying your rifle!
Attaching your Safety Gun Strap
The Short strap fixes around your existing rifle sling and is secured with Velcro. The longer strap is attached to the pistol grip of your rifle
When you put your rifle on your shoulder, you then reach behind and bring the longer strap and attach it to the shorter strap using the QR Buckle.
There are many ways in which you can use the SGS including:
Cross Chest Strap: – Attach the short section as far up as possible on your sling. – and with the rifle on your shoulder, slide it down to the front of
your shoulder. This will result in the SGS running across your chest.
Waist Strap: If you are wearing a bino harness or chest pack, attach the shorter strap lower on your sling. The SGS then becomes more like a belt (around the waist) and the weight from your rifle ends up on your hips instead of on the back and shoulders.
Choosing the right size…
Note: Size S-XXL is suitable around 80% of hunters.
A simple way to determine the size you need is as follows. Make sure you are wearing the type of clothing you would typically wear when out shooting! (This is for a right handed hunter, with the rifle over the right shoulder).
Using a tape measure, place one end on the top right hand corner of your chest, at your collar bone – approximately where your rifle sling would sit. Take the tape measure diagonally down across your chest and to a mid point in the small of your back. This will give you an indication of how long the strap needs to be.
The Safety Gun Strap Basic is available in three sizes XS-S | S – XXL | XXXL
XS-S 18″-26″ (45-67cm)
S-XXL 22″-34″ (57-88cm)
XXXL–> 29″-47″ (73-119cm)
Suitable for rifle slings 3/4″-3″ (20-80cm) wide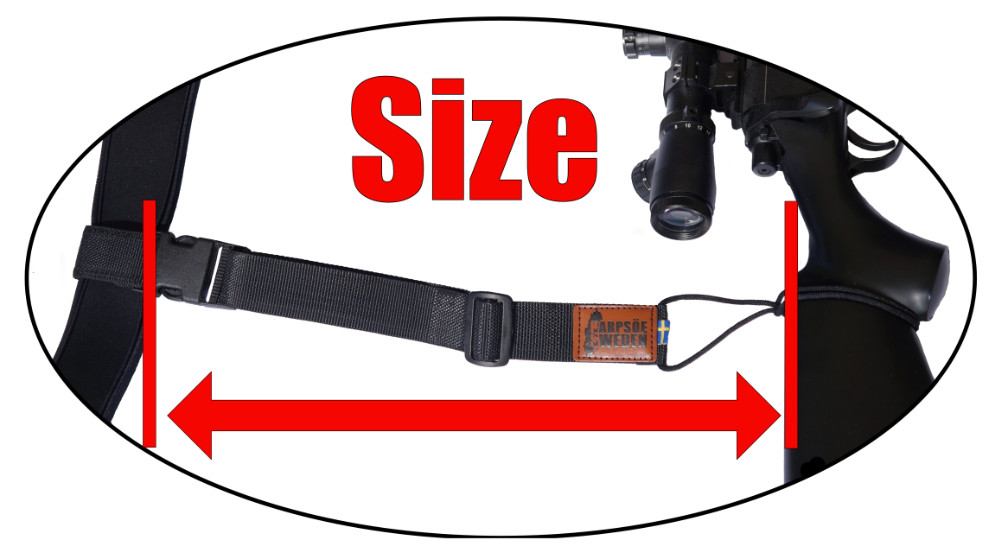 Check out the video from Harpsoe Sweden
How not to cross a burn – but showing how solid the SGS is!