Description
The all new, game changing torch from SniperHog Lights…
Important – Batteries & Chargers
The Coyote Cannon runs on 1 x 21700 Rechargeable battery. Due to shipping restrictions on Lithium Ion batteries, we are currently awaiting stock of SniperHog own brand batteries – but we have sourced some within the UK – you can find these by
CLICKING HERE
. The same seller has a range of chargers available.
Basic Package comes complete with:
1 x Coyote Cannon Light with dimmer tail cap so you have complete control over the lights brightness.
1 x LED module installed in the light in your choice of colour (Red, Green, White, 850IR or 940IR).
1 – Lens cover to protect the lens when not in use.
Optional Extras
Predator Pro Adjustable QR Mount
Light Handle
Features
The Coyote Cannon has an adjustable focus so you can go from a flood beam to spot beam allowing you to put just the right amount of light on your target.
Only takes about 1/8 turn of the head to go from full flood to full spot beam. You can also lock down the focus. This means if you want to lock down the focus of the beam at full flood, full spot beam or anywhere in between you can.
Interchangeable LED modules so you can easily change the colour if you order the optional LED modules.
Distances each colour will shine with a fully charged battery in spot beam in yards:
Red = 1050 yards
Green = 1770 yards
White = 1650 yards
How far you can expect to see with Night vision:
IR 850nm = 2500+yards using a Gen 3 night vision and 1000+ yards with digital night vision
IR 940nm = 1800+ using a Gen 3 night vision and 700+ yards with digital night vision.
The other difference between the 850nm IR and 940nm IR is the red glow emitted by the LED is much less with the 940nm IR than the 850nm IR and some believe that 940nm IR is less likely to spook animals.
Predator Pro Mount
Can be easily mounted to a 35mm, 30mm or 1″ scope tube or Weaver/Picatinny rail with our Predator Pro mount, available separately – or as part of the options above.
With this mount, you can adjust the distance the light sits from your gun/scope and it also has windage and elevation adjustments so you can get the light lined up perfect with your scope. This is a rock solid mount with a Quick release tab for easy mounting and dismounting from your gun.
Optional Light handle for Scanning.
Warranty Information
5 year warranty on the housing and LED.
2 years on any switches and mounts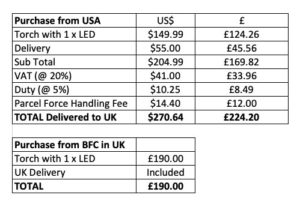 Why buy from the UK?
So we often get asked why things cost more in the UK than they appear to in the UK.
The first reason is that vast expanse of water between here and the USA – whilst it's a very bright torch, it won't fly itself over here and shipping isn't cheap.
Next up, there's the dreaded VAT, import duties and handling fees from UK processor.
To explain this better, The table shows the difference in price from buying from the US and having it shipped – or buying direct from us here in the UK…
Make sense?